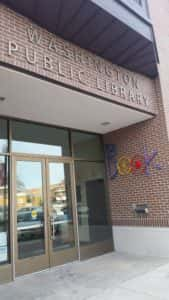 Audio books and eBooks can be checked out electronically and listened to anywhere through the Washington Public Library.
Librarian Jenisa Harris is hosting a class Monday to teach patrons how to use the app on their own devices, whether that's a phone, tablet, or computer, "If you have a library card at the Washington Public Library, you can use Bridges and Overdrive, which allows you to download digital books or audio books to your phone or tablet. We have people come in often with questions and I thought it'd be really great to offer a class." She recommends patrons bring their own devices to the class so they can be set up for patrons. She adds the library offers many books through digital copies, which increases readers' options. Also, each library card can have three books at a time, and there are English and Spanish options.
Director of the library Debbie Stanton says there has been more traffic with the electronic audio books, "It's been a huge uptick, this has been the first year where our e-audio books checked out more than our physical audio books. So we haven't seen that with books yet, but with the audio CDs, which makes sense because a lot of times people are listening in the car and more cars are Bluetooth enable now. So instead of having to worry about a bunch of discs on the road, the can just run it from their phone."
The class will be held 10-11 a.m. or 4-5 p.m. Monday, November 6th. Register ahead of time in person at the library or by calling 653-2726.