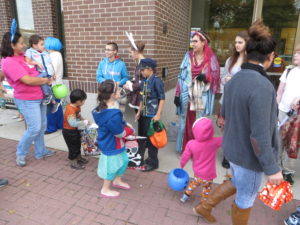 Trick-or-Treaters visit the Washington Public Library last Halloween. Photo by Sally Y. Hart
The KCII Big Red Radio is in the spirit of the spooky holiday today and will be taking part in Halloween festivities in Washington.
You can see the KCII Big Red Radio at the Washington Chamber of Commerce annual Trick-or-Treat Around the Square held from 5-7:30 p.m. Businesses will have candy and treats for kids in costume. There will also be free hayrides, pony rides, games, and food. Also, Halcyon House's trick-or-treat is 5:30-7 p.m. and citywide trick-or-treat for Washington is 6:30-9 p.m. The First Assembly of God's annual harvest carnival Trunk-or-Treat is 5-7:30 p.m. Check out KCII's online Community Calendar for more area Halloween happenings.