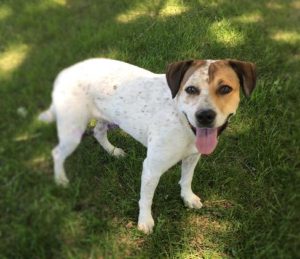 Laci is one dog at PAWS and More in Washington. Photo courtesy of PAWS and More
As Adopt a Shelter Dog Month comes to a close and the holidays approach time and resources should be considered before adding a pet to your home.
Director of PAWS and More in Washington Amber Talbot reminds people what they should consider before bringing a pet home, "The biggest thing is probably that you have the time to spend with an animal. Look at your schedule and kind of align that with the energy level of a dog. Time and resources are the most critical things, because if you've got a 12-hour workday seven days a week, or even six days a week, if you've got excessive hours you're not going to want to adopt or purchase a dog that is really high energy and needing a lot of time and attention, or a puppy for that matter that is going to need those shorter hours for potty training." She adds sometimes older dogs are the best fit for some families, "Maybe a senior citizen dog that sleeps excessively during the day, that's really calm, and has great bladder control would be an ideal match for an owner that has that type of schedule." She says also consider annual veterinary expenses before bringing a pet home.
Those in the community who aren't able to adopt a pet at this time are welcome to volunteer by socializing with the animals at PAWS and More. Talbot says there is a volunteer orientation and then people can interact with the cats, or take the dogs for walks. She explains those interactions keep the animals happy and make them more appealing to potential adopters.