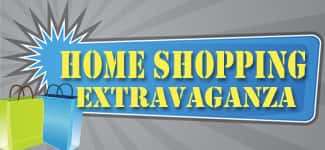 Your internet home for Huge Savings!
The Home Shopping Extravaganza!
Tuesday, October 1st
10 am – Noon, 1 pm – 5 pm, 6 pm – 7 pm
Wednesday, October 2nd
10 am – Noon, 1 pm – 5 pm
Thursday, October 3rd
10 am – Noon, 1 pm – 5 pm


Click above to Listen Live
Click above for a shopping list. The lists may be updated daily so check the bottom corner for the time stamp to make sure you have the most recent edition!
Click above for photos of Home Shopping Extravaganza Merchandise!
Our Phone Number
319-653-4513
We only have so many phone lines and they will frequently be busy.
Keep trying to get through.
The best time to call is when another caller hangs up!
Additional Information:
Click above to see how the Home Shopping Extravaganza saves you money!
Click above for available pick-up times for your merchandise!