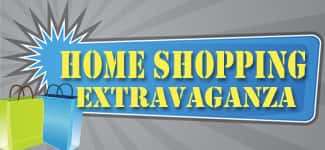 Your internet home for Huge Savings!
The Home Shopping Extravaganza!
We're Back! HOME Shopping Returns!
Tune in listen and call in your orders on the following days and times:
Tuesday, September 22nd
10 am – Noon
1 pm – 5 pm
6 pm – 7 pm
Wednesday, September 23rd
10 am – Noon
1 pm – 5 pm
Thursday, September 24th
10 am – Noon
1 pm – 5 pm


Click above to Listen Live

Click above for a shopping list. The lists may be updated daily so check the bottom corner for the time stamp to make sure you have the most recent edition!
Click above for photos of Home Shopping Extravaganza Merchandise!
Our Phone Number
319-653-4513
We only have so many phone lines and they will frequently be busy.
Keep trying to get through.
The best time to call is when another caller hangs up!
Additional Information:
Click above to see how the Home Shopping Extravaganza saves you money!
Pick Up Times
In keeping with responsible social distancing practices we will have the following options available for you to pay for and get your items:
Call in and get your total, then mail us a check. Once your check is received we will mail out your items.
Pay Online. Give us your email address and we will send you a link to an invoice for your order, you can pay securely through Square payments, and then we'll mail out your items.
Curbside Pick-Up. (weather permitting) KCII Staff will be wearing masks and ready to safely greet, process your items, and receive payment outside of our studio. We ask that you adhere to social distancing procedures as well by maintaining 6 feet of distance. More information and details will be provided for the curbside events.
For the Curbside Pick up the times will be (weather permitting):
September 25th: 9 am to 6 pm
September 26th: 9 am to Noon
Please come during these posted hours, as we may not have staff available to take care of your purchases at other times.
We accept Cash, Check, or Master Card, Visa, & Discover Cards
(a 5% charge will be added to all Card purchases)