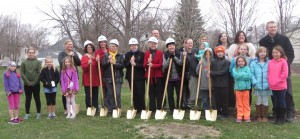 A groundbreaking ceremony for the Stewart Elementary School addition was held Wednesday morning, students, administrators, teachers and members of the WOWIE board took part. Photo by Sally Y. Hart
Gold-colored shovels helped move the first dirt at the Stewart Elementary School project in Washington Wednesday morning. A couple of years ago a librarian from the Washington Public Library read at story time at the Stewart West preschool building and saw crowded space and a small drop off area full of puddles and thought Washington could use a better facility for their students – that person is Jolisa Weidner.
At the ceremony, Stewart Elementary Principal Adam Miller said thanks to Weidner and Debbie Stanton for their grassroots efforts to collect signatures and educate the public ahead of the bond vote. He also thanked the WOWIE, Women of Washington Iowa Endowment, board for their work on the project and for their donation.
Last June, residents of the school district approved a $2.3 million bond measure for the project that will add six preschool classrooms and a child care center to the elementary school. Karen Gorham explained the child care center is named for Cornelia Day. The work will include a new drop off and pick up location for students. For photos from the groundbreaking visit KCII Radio's Facebook page.