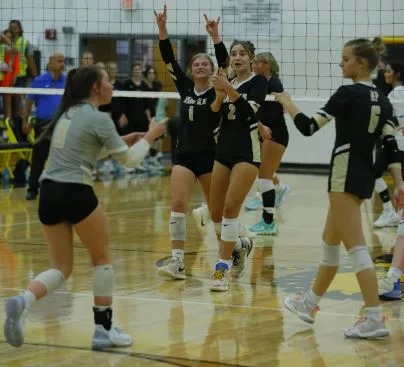 Photo Courtesy of MP Sports Social Media (Nicole Miller)
It's only mid-September, but the No. 10 in Class 3A Mid-Prairie Golden Hawk volleyball team closed out an important River Valley Conference road win Thursday, beating the No. 12 in 2A Wilton Beavers in four. The Hawks took it by scores of 25-20, 25-23, 21-25 and 25-14. The Golden Hawks dominated every statistical mark, assists 52-30, kills 59-33, blocks 19-11, digs 100-85 and aces 8-4. The digs department was led by Dakota Mitchell with 32, Jovi Evans had 22, Lanee Duwa 14 and Harper Pacha 13. Evans led with 27 assists, Avery Helmuth had 20 helpers. Evans had the top kill total with 20, Pacha added 16 and Callie Huber 10. At the net, Huber and Katelyn Harland each had five blocks. Duwa's three aces led the way.
The loss was the first in conference for Wilton, who drops into a tie in the loss column with six other RVC teams, including the Hawks. Mid-Prairie is now 13-3 overall. The Golden Hawks host the Durant Wildcats for Senior Night Tuesday.