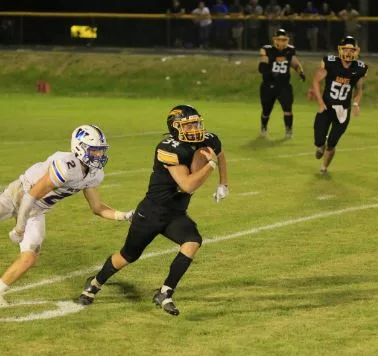 Photo Courtesy of MP Sports Social Media (Nicole Miller)
Mid-Prairie head football coach Daren Lambert preaches to his team the importance of their response to adversity. Friday night in Wellman, Mid-Prairie, with the pressure of starting the year 0-3 on the shoulders, fell behind No. 16 West Burlington Notre Dame 12-0 in the first quarter. The response from that point was swift and decisive, as the Hawks outscored the Falcons 40-6 the rest of the night, and turned an early deficit, into a 40-18 Homecoming celebration of their first win of the year.
Two strange plays led to Falcon touchdowns early. Quarterback Caden Schwenker avoided a sack, despite contact from two Golden Hawk defensive linemen, to deliver a 49-yard scoring pass to Levi Fletcher-Bates, who had leaked behind the secondary, putting Notre Dame up 6-0. Next drive it was Quincy Collins scoring on a 25-yard run. He lost the ball just after he crossed the goal line, leading to some momentary confusion, but in the end a 12-0 Falcon lead. The Hawks righted the ship their next trip, pounding down the field, 64-yards on 10 plays, six snaps to Hudson Ehrenfelt, including a three yard scoring run to make it 12-7. After a Falcon three and out, Ehrenfelt supplied more fireworks. One touch, 40 yards, and another touchdown, as he was off the races, to give the Golden Hawks a lead they wouldn't give up the rest of the night. The next Falcon drive covered 73 yards, but stalled in the red zone on fourth down, and Ehrenfelt and the Hawks made the Falcons pay, rolling 86 yards on eight plays, with the Golden Hawk sophomore cashing in for his third rush score, a seven yarder to send the Hawks to half up 20-12.
Out of the locker room West Burlington made their final push to stay in it, a six play, 90 yard drive, that finished with a Schwenker to Isaiah Crow touchdown made it 20-18, but the Hawks put their foot on the gas the rest of the way. Next possession, nine plays, 65 yards, and rushing score number four for Ehrenfelt from eight yards, made it 27-18. Late third it was 14 plays, 55 more yards and six more points on Mid-Prairie No. 34's fifth rushing score of the night, to go up 33-18. The Hawks forced a Falcon punt to put the issue to bed and finished the scoring with a 48 yard Weber to Henry long distance scoring connection. Following the game, head coach Daren Lambert talked about his team's early response, overall effort on both sides of the ball, how it felt to get the win and individual standouts. He said, "We did a great job of finding a way to come back. At the end of the first quarter, everything was not going well for us. It's a gut check time, and our guys responded from that point on. Intensity on our front line was important. Defensive got some stops and we started hitting big plays. Our offensive line (Landon Kos, Jarron Thomas, Conner Wiles, Parker Ehrenfelt and Quinn Callahan) responding. Hudson (Ehrenfelt), finding the holes and breaking some big runs. Fighting off some guys, stiff-arming, and then reading holes. He made some difficult runs look easy. He's been playing extremely well in the first three games and we needed to get him in the end zone. As the game went on, we did a much better job tackling, and then playing responsible football. They had a couple of big plays early. They tried to go back to them again and we made the adjustments. I think we wore them down. Once you make a sack or get a big stop, guys feed on that. On the d-line lot of seniors there (Jarron Thomas, Grady Miller), linebackers (Lukin Rediger and Cobi Hershberger), I'm happy for them to have a good night on Homecoming. I'm happy for the kids to get that first win. Each week we ended up on the losing side, but you have to trust the process. It's going to come together. We worked at getting better, even though it may not have been reflecting in our record and on the scoreboard. This is a district win, and that's where the season is made!"
Unofficially, Mid-Prairie won the total yards battle 424 to 330, including 251 to 129 on the ground. Ehrenfelt had a career night. The sophomore sizzled, with 215 yards total receiving and rushing on 26 touches and five touchdowns. Weber finished 12 of 19 through the air for 173 yards and one touchdown. Cobi Hershberger caught six balls for 84 yards. Henry had a scoring grab. Jarron Thomas and Grady Miller combined for 14 tackles, five for loss. Henry had an interception, Miller a forced fumble, and Hershberger had the recovery. The Falcons were led by Schwenker, 11 of 16 for 201 yards and two touchdowns. Collins finished with 93 all-purpose yards and a score. The Golden Hawks are now 1-3 overall, but most importantly 1-0 in the district. The Falcons are 2-2, 0-1 in group play. Mid-Prairie will be at Davis County Friday.