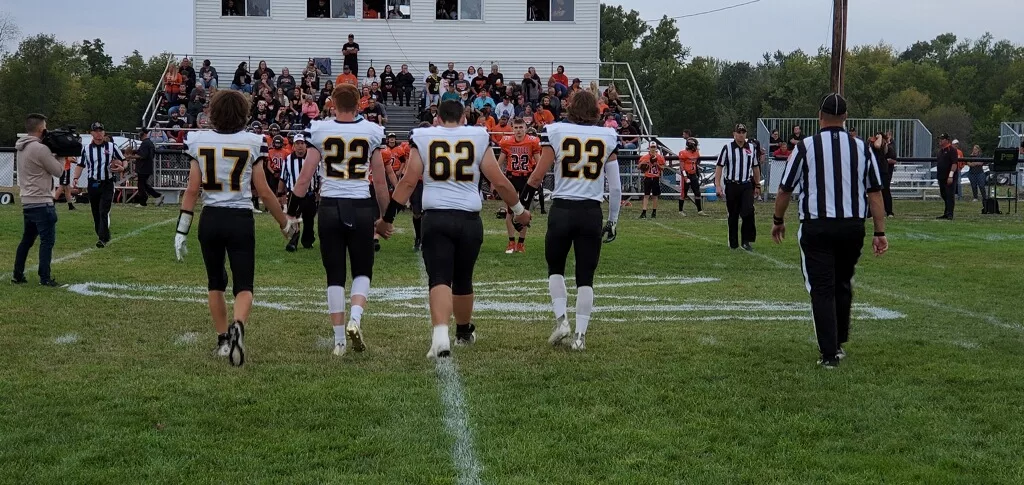 Photo credit: Darrek Graap
Lone Tree football played spoiler on Friday night, powering past Springville 47-14 to sour the Orioles' Homecoming celebration.
In a game heard on the new KCII3 stream, the Lions dominated from the word go, driving 60 yards on eight plays in their opening possession. Ethan Bockelman cashed in on a 21-yard touchdown run to put Lone Tree up seven. Their defense followed suit, forcing an Oriole turnover-on-downs and punt in their first two drives. With a short field on two consecutive possessions, Lone Tree was able to extend their lead thanks to a five-yard score from Maddox Jondle and a 23-yard run from Bockelman.
Carrying a 21-0 lead into the second quarter, it was more of the same for the Lions on both sides of the ball. When it appeared that Springville was going to find the endzone for the first time, the 60-yard drive fizzled out when Emmett Burke intercepted a fourth-down pass. This was the Lions' first takeaway since Week 0 and their offense made no mistake with the ball. Another lengthy drive spanning seven plays and 63 yards was capitalized by Jondle's second touchdown of the night.
Following another Oriole punt, it would take just one play for Bockelman to fly 65 yards to the house. An offensive line led by Cole Abbot, Brody Magruder, Harry Brenneman, and Jack Patterson opened up running lanes all night as Lone Tree out-gained Springville 249-106 in the first half. The Lion rushing attack would ultimately end the night at 274 yards, and also included Jader Sanchez and Dominic Graap.
Up by 35 in the first two quarters, Lone Tree was able to coast to a victory in the second half. Bockelman added another score with his legs in the third quarter, then connected with Jondle on a 51-yard touchdown pass in the fourth to put the Orioles in the rear view mirror. Bockelman ended the night with 193 yards on 16 carries and four touchdowns, while adding 75 passing yards on three completions. Jondle finished with 161 all-purpose yards and three scores.
Springville was able to get on the board in the final frame when Conlin Rouse broke free for 27 yards. Mason Hoy added the Orioles' second score on a 53-yard carry in the game's final minutes. For the second week in a row, Lone Tree's defense held the opposition to less than 50 passing yards while also forcing six negative plays.
Friday night's win improves the Lions' record to 3-1, with their own homecoming kicking off on Sunday. They host Edgewood-Colesburg in Week 5. Meanwhile the KCII Area Game of the Week heads to Highland next Friday, as the Huskies welcome the Columbus Wildcats.