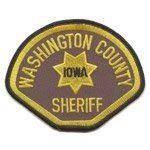 The Washington County Sheriff's office responded to a report of a single-vehicle rollover accident with unknown injuries at Spruce Ave. and 220th Street in rural Washington County. Prior to emergency personnel arriving on the scene, it was advised that no person was located within the vehicle and that the vehicle was on its top in the north ditch.
Upon arrival at the scene, the operator of the vehicle, twenty-four-year-old Jacob Gilpin, was observed in the south ditch of 220th Street, and emergency care was rendered. It was determined that Gilpin was not wearing his seatbelt at the time of the accident and was ejected from the vehicle into a nearby farm field after entering the north ditch, striking an affixed road sign, and rolling multiple times before coming to a rest. It was determined that Gilpin walked through the farm field to the north ditch, crossed 220th Street, and came to rest in the south ditch.
Gilpin was transported to the University of Iowa Emergency Room via the Washington County Ambulance Service for further medical treatment. The Washington County Sheriff's Office was assisted by Washington County Rescue, Washington County Ambulance Service, Washington Fire Department, Washington EMS, University of Iowa AirCare (later disregarded), Washington County Attorney's Office, and Moore's Towing.