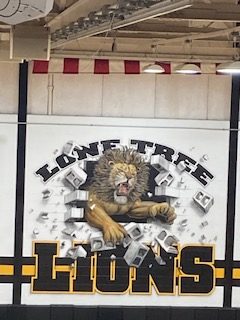 It was an area matchup on Friday in the Southeast Iowa Super Conference Shootout when the WACO girls defeated Lone Tree 45-33 on the road in the battle of the seven seeds. 
The host Lions had a hard time settling in by falling behind 9-4 after one and 24-13 at the break with the Warriors keeping Lone Tree at arm's length the rest of the way. Grace Coble led all scorers with 21 points and five rebounds. Ellah Kissell added 13 points and Emma Wagler brought in nine boards. Lone Tree shot just 18% from the floor, but Avery Lisk collected 13 points and three steals. WACO closed out the regular season 9-12 and they have a first round class 1A regional bout at Wapello on Thursday. The Lions are 7-15 and travel to English Valleys to open the postseason the same day. 
The Lone Tree boys competed at Holy Trinity High School on Saturday and lost the seventh seed tilt to the Crusaders (6-14) by a final score of 43-29. It was 13-6 Holy Trinity after one and they had the upper hand in all four quarters en route to the win. Conner Gehling had 17 points and 10 rebounds for the home team. Lone Tree falls to 5-15 overall and they close out the regular season today against Pekin.