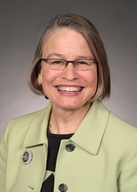 As public health departments across the state including Washington County have begun declining weekly COVID-19 vaccine allocations due to decreased demand, U.S. Representative for Iowa's Second District and former Iowa Department of Public Health Director Mariannette Miller-Meeks (R) is encouraging all Iowans 16 years and older to get vaccinated.
Iowa's vaccine dashboard showed Friday that 2,222,768 total doses have been administered to Iowa residents, and 1,041,462 vaccine series have been completed, about one-third of Iowans' population. When she's not in Washington, D.C., Congresswoman Miller-Meeks has been assisting at vaccine clinics in her district, emphasizing the necessity of vaccinations in order to achieve herd immunity, which is estimated at 70-85% of the population.
While some Iowans as young as 16 years old might not feel it's necessary to get vaccinated, Miller-Meeks mentions they can still experience lasting side effects from contracting COVID-19, "For me, it's a personal responsibility. I'm going to encourage people to get vaccinated, they've got three different types of vaccine, they are safe, they are effective. There were no shortcuts on safety in developing the vaccine. President Trump did something truly remarkable in working with both private companies and the FDA to reduce the regulatory burden and allow things to happen concurrently and simultaneously while prefunding the vaccine development so that we could get a vaccine out as rapidly as possible."
Washington County Public Health announced last week that they are no longer holding first dose vaccine clinics until demand increases, though the Hy-Vee and Beans pharmacies in Washington, One to One Pharmacy in Kalona, and Pharmacy on 8th in Wellman are still offering vaccines through their federal agreements. You can hear more from Miller-Meeks during today's Halcyon House Washington Page on air and at kciiradio.com.