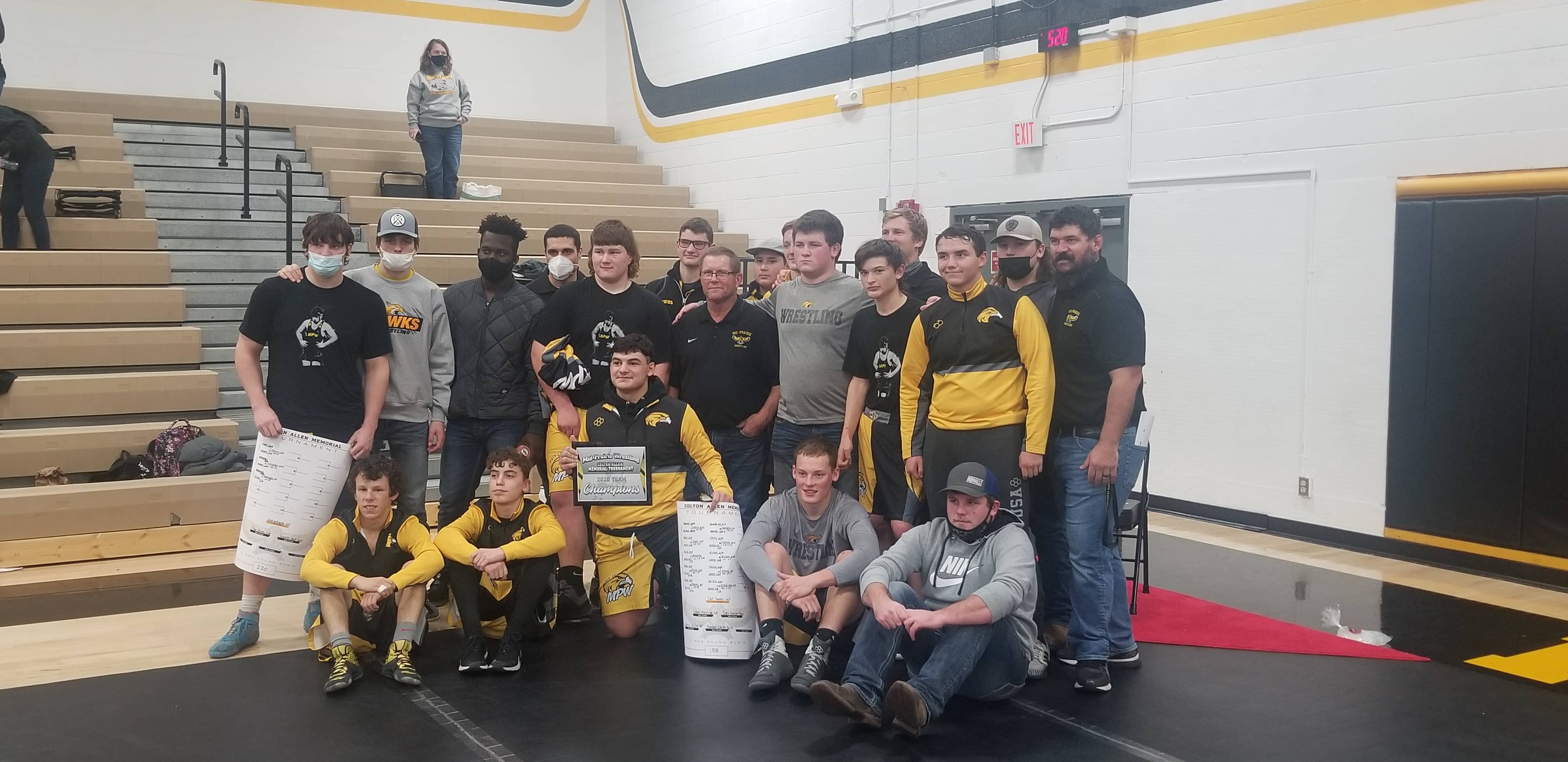 The Mid-Prairie Golden Hawk wrestling team travels to Wilton Tuesday for a quadrangular meet with Benton, North Linn and the Beavers. The Golden Hawks enter the event with an overall dual record of 6-7 on the year. Last Thursday at Northeast Goose Lake they took two of three RVC contests, beating Northeast and Bellevue but falling to Camanche. The Hawks also wrestled at the Gary Curtis Invitational at Highland on Saturday where they placed fifth of 14 teams with 173 points crowning three champions in Vinnie Bowlin, Cael Garvey and Josh Wallington. Wallington leads the Golden Hawks with a 23-1 overall record. Ben Meader and Mose Yoder have also hit the 20 win mark.
Benton comes in at 3-3 on the dual season. They were last in action Thursday when they beat East Marshall and Clear Creek Amana in a WAMAC triangular. The Bobcats have two ranked wrestlers in their lineup according thepredicament.com with Jaiden Moore No. 2 in class 2A at 113lbs and Austin Roose No. 6 at 182lbs. The Golden Hawks fell to the Bobcats last season 40-34.
North Linn comes in with an overall dual record of 6-1. The Lynx split a pair of Tri-Rivers Conference duals Thursday, beating Central City and falling to Lisbon. North Linn has a pair of ranked wrestlers in their lineup with Cade Cook No. 7 in class 1A at 120lbs and Cael Bridgewater No. 4 at 132lbs. North Linn beat Mid-Prairie head-to-head last season 51-24.
Wilton enters action with an overall dual record of 10-1. The Beavers swept Anamosa and West Branch in a River Valley triangular on Thursday. The Beavers have two ranked wrestlers in their lineup with Brody Brisker No. 5 at 106lbs in class 1A and Kael Brisker No. 2 at 132lbs. Wilton beat Mid-Prairie last season 48-36. Action starts tonight at 5:30 and continues into the evening at Wilton High School.