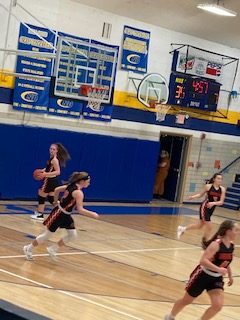 Non-conference action was in store for the Washington basketball teams last night at Burlington Notre Dame and the Demons split the girl/boy doubleheader.
As heard on KCII, the Demon boys' offense was clicking on all cylinders early against the Nike 2-3-zone with the Orange and Black up 29-19 after one. Great ball movement improved the lead to 43-30 at the break and Notre Dame never threatened in the second half, as Washington ran away with a 76-53 victory. Four players finished in double figures led by Ethan Patterson and Kasen Bailey each with 18 points. Lucas Kroll and Trashaun Willis worked high-low against the zone and recorded 17 and 12 points, respectively. Josh Smith, a 6'5'' Nike post, was averaging 20 points coming in, but the Demon defense kept him in check for just six. The Demons improve to 7-3 on the campaign. 
The girls had a tough time breaking the Nike (7-1) 1-2-2 full court press and turnovers mounted en route to a 24-4 deficit at the end of one. That trend continued and Burlington Notre Dame surged to a 63-22 win. Washington turned the ball over 25 times on the night. Josie Tanner led the team with six points and Alex Murphy brought in six rebounds. The Demons fall to 1-10.
Both Washington squads now gear up for a Southeast Conference showdown at Keokuk on Friday.