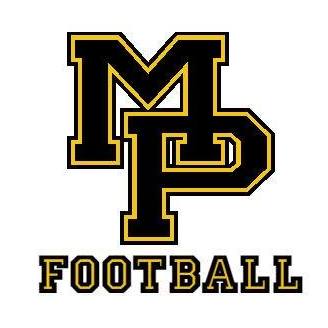 The Mid-Prairie Golden Hawk football team cleared their first postseason hurdle and collected the program's first playoff win since 2015 with a rout of Central Lee Friday in Wellman 49-7. In a game heard on AM and FM KCII, Mid-Prairie scored their first two times with the football. After a Central Lee three and out, Mid-Prairie marched 57 yards on four plays with Kayden Reinier scoring the first of his four touchdowns on the night from nine yards out to put Mid-Prairie up 7-0 two minutes into the game. Three minutes later Reinier doubled the Golden Hawk lead with a 24 yard touchdown run to make it 14-0. The Golden Hawks added three more touchdowns in the second frame, two more Reinier runs, one of 42 yards, the other five yards, sandwiched between that was Vinnie Bowlin up top to Keegan Gingerich for 64 yards and a touchdown, leaving Mid-Prairie with a running clock with four minutes to go in the second and a 35-0 lead at half.
After the break, the Golden Hawks got a touchdown each from Tyler Helmuth and Nathan Quinby on scoring runs of 30 yards and one yard respectively. Central Lee got their points in the fourth quarter against the Golden Hawk reserves with the game already decided. After the game, Mid-Prairie head coach Pete Cavanagh talked about his team's execution. "Our experience up front was big with our defensive line with Cael Garvey, Josh Wallington, Michael Kelly and Ben Meader. It doesn't matter how good a quarterback is if he doesn't have time to operate and we did a good job limiting that tonight. Our offensive line played well, their confidence the last few weeks has been great. The five up front did a good job and Justice Jones set the edge well at tight end. We got back to our downhill running. Kayden Reinier has put together a great career over two years and change. He's a kid that worked hard and you like to see people like that get rewarded. Our goal was to play to our potential and I thought we played pretty solid, outside of the early stretch of the second quarter on offense. I think overall our starters played well. Our second guys played well to, Tyler Helmuth had a good night, and our defense continued to play hard down the stretch."
Mid-Prairie had 18 first downs while holding Central Lee to just four. The Golden Hawks outgained Central Lee 423 to 84 in total in the game including 332 to -14 on the ground. Mid-Prairie had two backs go over the century mark on the ground led by Reinier with 12 carries for 165 yards and four scores. Helmuth added 106 and a score on 10 carries. Bowlin was four of nine for 85 yards and a touchdown. Mid-Prairie is now 4-3 and advances to the second round of class 2A playoffs Friday when they take on No. 10 Tipton who was a 49-14 winner over Eddyville-Blakesburg. You can hear that game live on AM 1380, FM 102.5 and KCIIradio.com, beginning with the Washington HyVee pregame show at 6:30 and kickoff at 7p.m. from Dwight G. Sattler Field in Wellman.