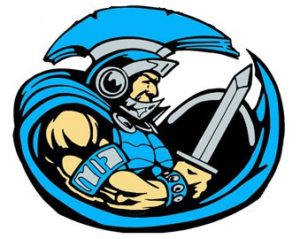 The WACO Warrior football team opens the playoffs tonight when they travel to New London to face the Tigers. The Warriors went 3-4 in the regular season, finishing with a 42-28 loss at Winfield-Mt. Union last week where Will Edeker was 11 of 24 through the air with a pair of interceptions and John Rice had 13 carries for 52 yards and a trio of touchdowns. On the year, WACO is led by Edeker under center at 42 of 106 for 496 yards, five touchdowns and seven interceptions. His favorite target is Simeon Reichenbach with 17 catches for 186 yards and two touchdowns. On the ground it's also Edeker with 86 carries for 471 yards and nine touchdowns. On defense, Reichenbach has 42 tackles this season.
New London enters play with an overall mark of 5-1 after a 62-12 win over Twin Cedars in their regular season finale. In the victory the Tigers were led by Blaise Porter at six of eight through the air for 112 yards and four touchdowns. On the season the Tigers are led by Porter through the air at 15 of 18 for 196 yards, five touchdowns and no picks. His favorite target is Bowen Glaha with six catches for 92 yards and three scores. On the ground, Porter is the leader with 89 carries for 966 yards and 16 touchdowns. On the other side of the ball, Caydin Wahls leads the Tiger defense with 37 total tackles. This week, WACO head coach Chad Edeker spoke with KCII sports about seeing the Tigers a second time and what his team needs to do to prepare. "We've got to continue to work. Last week on defense we reverted back to giving up the big play. We need to concentrate on that side of the ball. As coaches we need to make sure that we are putting kids in position to make plays. We have to continue to grind and try to pull an upset."
The Warriors met the Tigers in week two with New London coming away with a 50-10 win on the strength of 236 yards and five touchdowns on the ground and three turnovers forced. Action gets underway at 7p.m. at New London High School.