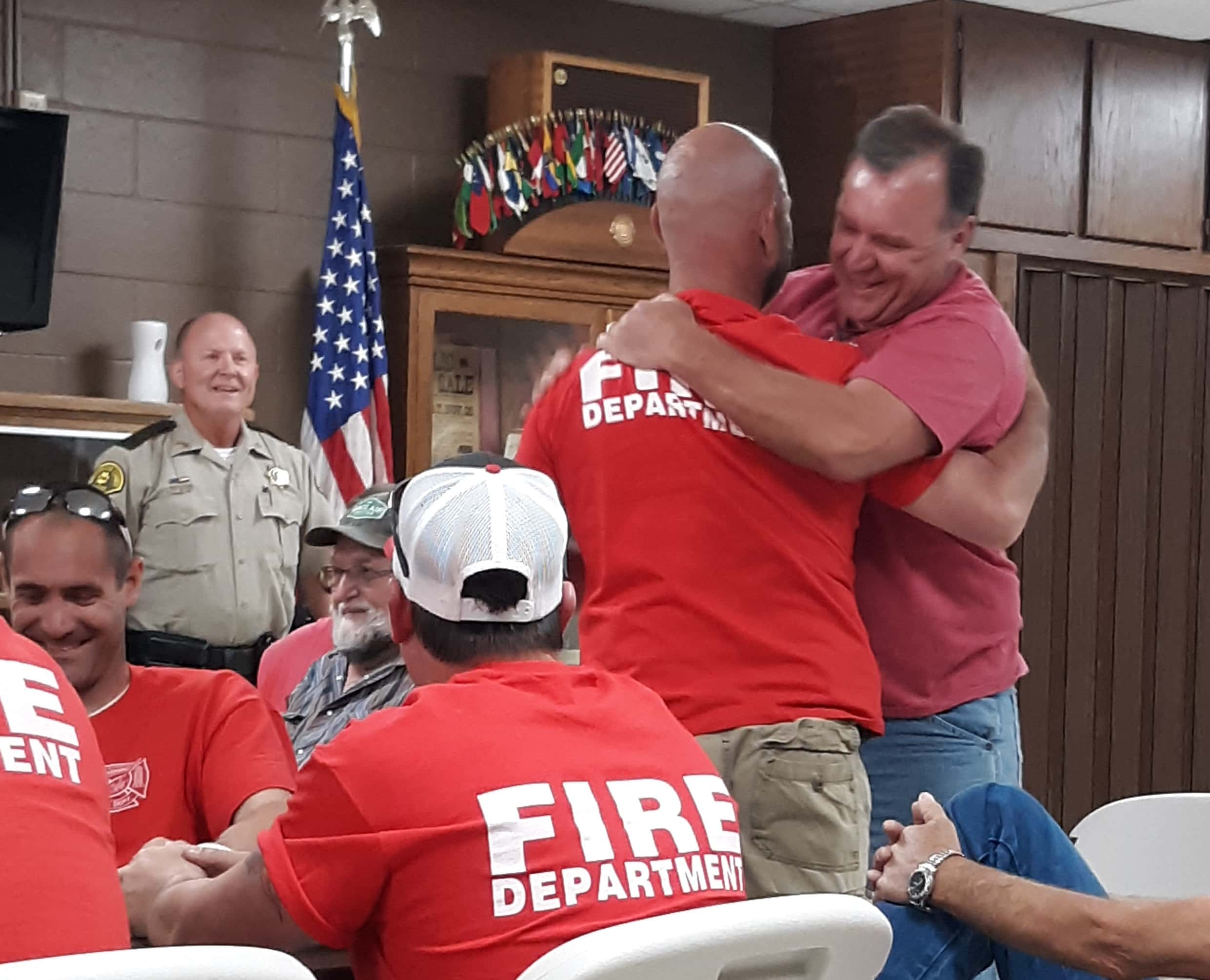 A man rescued from a pond overflow pipe in 40-degree water got to thank some of his nearly 45 rescuers Monday night. At about 4:45 p.m. on April 13th, Randy Gardner of Toddville had been clearing debris from a pond overflow pipe about three miles east of Brighton when his legs were pulled in. His 21-year-old son, Matt, called 911 and kept his dad's face above water until volunteers from the Brighton Fire Department arrived on scene and jumped in to help a stranger.
It was at the Brighton Fire Department Monday that Gardner was able to walk in on his own two feet and say thanks, "What an amazing day. I mean, it started out so bad, ended up so incredibly good. I never had a thought I was going to get out of there."
Gardner was in the water for a total of two hours and 50 minutes. Volunteers of the Brighton Fire Department got in the water with Gardner until the Rescue Dive Team arrived on scene in their cold water suits to assist. Private citizens Ron and Jane Janecek brought in a backhoe to take out part of the pond dam to relieve the water pressure enough for Gardner to be freed. He was transported by Air Care to the University of Iowa Hospital. He was in the hospital for about a week.
Jane Janecek gave Gardner a gift Monday, a toy backhoe. Hands were shaken, smiles filled faces, and hugs were given. Gardner applauded all of those who helped on that cold April day, that had a high temperature of 46 degrees, "You guys can go home tonight and absolutely know for a fact that you saved a life. Because there was no other way I was getting out of there. To be honest with you, I didn't have a whole bunch of time left when I did. I had a few degrees left in me, but it got to be pretty… you know that, I got to be pretty violent there towards the end. And I know you guys, I talked to a few people, that when I finally got out of the water my legs were black, it sounds like. And a few of you guys stood back and said, 'Well, we hope he lives, because he's not keeping those legs.' Well, I did. It was a miracle. Everything was a miracle. The next morning my toes were wiggling. And you know, I thought I was losing my legs, which I didn't care if I did. And it just, everything just happened, the only way it could have for me to live."
Agencies that assisted include Washington County Emergency Communications, Brighton Fire and QRS, Washington County Rescue, Washington County Ambulance, Iowa State Patrol, Iowa DNR, and Washington County Sheriff's personnel. On Sunday, Gardner will be able to celebrate Father's Day with his son Matt, who he calls his hero.