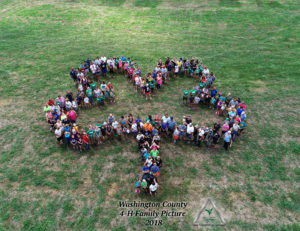 Photo courtesy of Continuum Ag.
4-H members, volunteers, and families from across Washington County all come together one week a year.
The Washington County 4-H family celebrated its continuing legacy with an aerial group photo Monday. Washington County 4-H/Youth Coordinator Amy Green says she was inspired by a 90-year-old group photo taken at the first annual Iowa 4-H Girls Convention in Ames. All current 4-H members, volunteers, and alumni were invited to gather on the south side of the fairgrounds at noon Monday to have the photo taken by a drone provided by Continuum Ag.
Green shares how it felt to have the photo taken, "It was fun to see people of all ages, young, old, not even in the program yet and people who have been seriously volunteering for 50 years. So what a good way and place to collect everyone and that's what the whole fair's about bringing tons of people from the county together, so it's perfect."
Green adds how the photo will be used, "We'll use it to help tell the story of 4-H and who we are and all the styles and excited to use it on social media. And we're going to print a really big copy to put in our office so when people come in they can find themselves in the photo and be excited and be connected to what we have going on here."
The Washington County Fair takes place through this Friday. Listen to KCII for live updates from the fairgrounds.