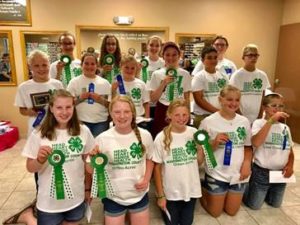 Photo courtesy of Washington County 4-H
Many people enjoyed "making and taking" during the Working Exhibits on Tuesday, July 18 at the Washington County Fair.
A large crowd flocked to the hands-on presentations Tuesday late afternoon and left with some homemade items and valuable facts.
Eight groups of 4-H'ers participated in the Working Exhibits. Tess Berdo earned the Judge's Choice trophy for her "Make and Take Bath Salts." Tess is a 4th grader and not eligible for the Iowa State Fair. The following will represent Washington County at the Iowa State Fair: Green Acres members Baylee Stalder & Zoey Dennler with "Fun Farm Animal Mask," Ally & Bailey Rees of the Green Acres 4-H Club with "Bookmark Buddies," Sydney Cuddeback (Prairie Pride) and Olivia Marek (Jackson Jets) with Floam, and Limecreek Limelight Isadora Goode with "Bookmarks." Other participants included Maya Murphy & Rowan Ross, Payten Peck, Halli & Cobi Hershberger, and Jenna Messer.