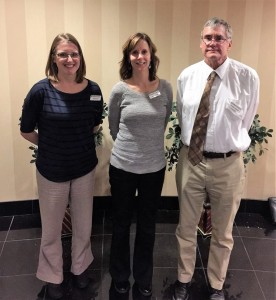 Three new members were elected to the WCRF board (from left) they are Kierstan Peck, Shelli Cleverly, and Dr. Mike Jorgensen. Photo courtesy of WCRF
Three new board members have been elected to the Washington County Riverboat Foundation board of directors. The new members are Shelli Cleverly, Kierstan Peck, and Dr. Mike Jorgensen. The 14-member WCRF helps area non-profits and local government to complete projects by allocating funding biannually and with minigrants. The WCRF is the non-profit affiliate and gaming license holder for the Riverside Casino and Golf Resort.
The most recent grant ceremony was in November, during which president of the board Mike Driscoll announced five grants would go to trail-related projects. In total, the five grants added up to $225,282. Since 2006, the first grant distribution, the foundation has awarded 1,092 grants for $38,511,453.