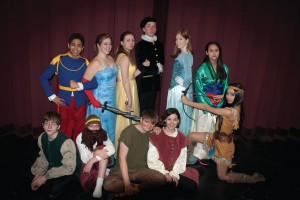 Game of Tiaras cast members (front row from left): Eli Van Roekel, Jaiden Sedlacek, Sawyer Black, Lillian Radeboldt-Hopper, Gina Waters, (back row from left) Ben Chapman, Aleigha Gugel, Abby Pickard, Isaiah Sents, Carah Reimer, Stephannie Schrock. (Photo by Christine Meader)
Mid-Prairie High School will present "Game of Tiaras," a comedy that merges "Game of Thrones," "King Lear" and the world of Disney princesses. The story includes Snow White and her dwarfs, the King, Cinderella, Ellie the Snow Queen, Belle, Prince Charming, the French Prince, Pocahontas, Little Mermaid, Jasmine, Mulan, and even Princess Leia — but only one princess will survive and take the tiara. The play will be performed Friday and Saturday, April 1 and 2 at 7:30 p.m.  
Cast members are: Aleigha Gugel as Cinderella, Abby Pickard as Belle, Carah Reimer as The Snow Queen, Josh Fox as The King, Isaiah Sents as The French Prince, Ben Chapman as Prince Charming, Sawyer Black as Smeagol, Isabella Naylor as Snow White, Maizy Fugate as Little Mermaid, Alexandra Humston as Other Princess 1, Stephannie Schrock as Other Princess 2, Gina Waters as Other Princess 3, Alex Wesenberf as Princess Leia and Crowd Member 1, Elijah Meader as the Blood Packet Guy, Jaiden Sedlacek as Dwarf #1, Austin Boos as Dwarf 2 and Crowd Member 2, Kitty Conway as Animated Snow Man and Peasant 1, Lola Knigh as Peasant 2, Evan Meader as Guard 1, Nolan Bertelli as Guard 2, David Murray as Guard 3, Taylor Hillbrand as Soldier 1, Ryan Sansen as Soldier 2, David Fleming as Soldier 3, Tate Robertson as Talking Candle Man and French Soldier 1, Greta Schmidt as French Soldier 2, Michael Meserole as French Soldier 3, Lillian Radeboldt-Hopper as Herald and Young Little Mermaid, Medora Helmuth as Talking  Teapot Lady, and Josh Allen as Executioner.
Tickets will be available at the door or by calling Deanna Bertelli at 319-548-0000.