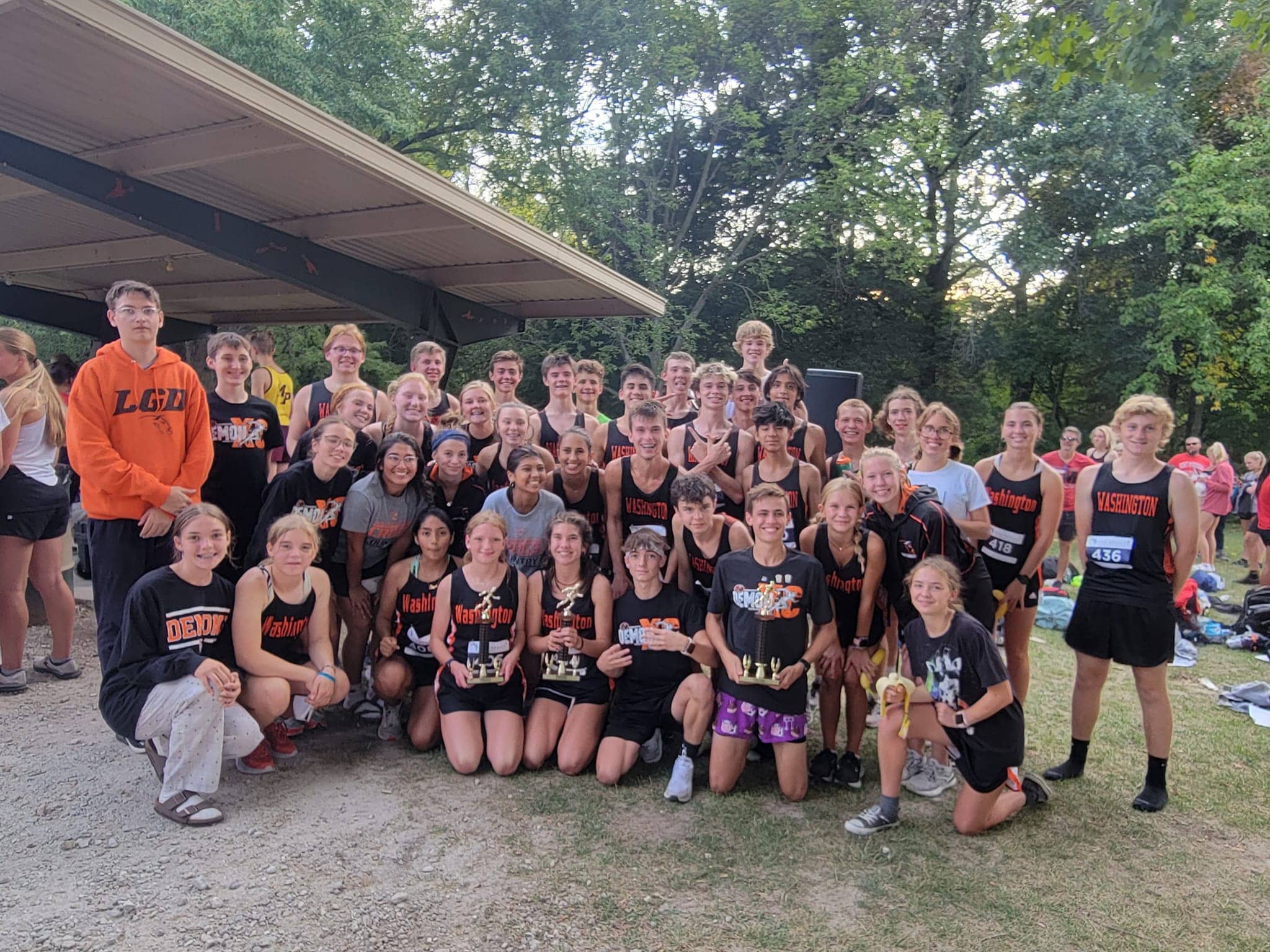 All that glitters was gold on Thursday in Mount Pleasant, and it all came back to Washington with the Demon cross country teams in a statement performance. The Washington boys won the large school division team title with their score of 27 points, Oskaloosa was second with 45. Demon Micah Rees was the individual meet champion in 16:10, scorching the field by nearly a minute. Other Washington finishers included Tyler Alderton third, Drew Horak sixth, Elijah Morris eighth, Lane Schrock ninth, Andrew Rees 10th and Andrew Shepherd 17th.
The Columbus Wildcats had the top area team score in the small school division, finishing runners-up with 65 points. Danville won the meet title with 20 points. Damian Vergara led the way for the 'Cats in 18 minutes for seventh place. AJ Bonnesen of Danville was the meet champ in 16:20. Other Wildcat finishers included Tim Hills-Carrier 11th, Tyler Humiston 12th, Cael Phillips 17th, Brian Tlatenchi 18th, Alexander Rees 31st and Oscar Alcala 34th.
Winfield-Mt. Union was third in the team race with 76 points led by a fourth place performance from Gabe Hemsworth in 17:37. Other Wolves runners included Kohlby Newsom fifth, Bowen Thomson 19th, Jacob Haines 23rd, Nicholas Sparrow 26th, Ty Scorpil 27th and Sheaden Adams 30th.
WACO was sixth with 133 team points, led by Isaac Rich in 20th at 19:36. Other Warriors included Keriran Luitjens 22nd, Tristan Luitjens 24th, Mattias Luitjens 35th, Tanner Egli 38th and Deacon Bird 46th.
Lone Tree did not post a team score, the Lions top finish came from Taylor Alberhasky in 40th at 22:50. Other Lions included Blake Honeycut 43rd, Jadin Grieser 44th and Joey Birtcher 45th.
The Washington girls ran away with the team championship, literally and figuratively, with their score of 25 points, well ahead of the second place Panthers on their home course with 65. Iris Dahl of the Demons was individual champion in 20:04, beating the field by 51 seconds. Other Washington finishers included Quincy Griffis second, Lauren Horak fifth, Abigail Kleese eighth, Angeline Anderson ninth, Kendall Hinrichsen 10th, Alyvia Anderson 11th, Isabella Lujan 13th, Ada Kendall 14th, Isobel Murphy 19th, Giselle Marcelino 20th, Taylor Bartholomew 22nd, Cecilia Murphy 24th, Ally Rees 30th, Jetzibe Sanchez 34th, Eden Levetzow 35th and Alijah Jara 36th.
Top small school team performance came from Columbus as runners-up with 44 points. Danville won the title with 20. The Wildcats were led by Ariana Vergara third overall in 22:48. Individual meet champion was Danville's Alaina Gourley in 20:32. Other Columbus runners included Naveiah Garza seventh, Quinn Yotter 10th, Averi Sipes 11th, Isabel Rendon 21st, Frannie Sosa 26th, Alexa Alcala 29th, Sarah Campa 34th and Jenny Castellanos 39th.
Winfield-Mt. Union was fourth with 101 points. Leader for the Lady Wolves was Afton Wilkerson in 17th in 26:33. Other WMU finishers included Karilyn Titus 24th, Emma Richardson 28th, Maggie Hutton 32nd, Olivia Martinez 33rd and Bayla Thomson 36th.
Lone Tree and WACO did not post team scores. Their performances were topped by the Lady Lions Vivian Zaruba fourth in 23:03 and the Warriors McKenzie Vradenburg 14th in 26:11 followed by WACO's Hannah Dennis 15th, Justine Lynn 16th and Avery Waterhouse 31st.