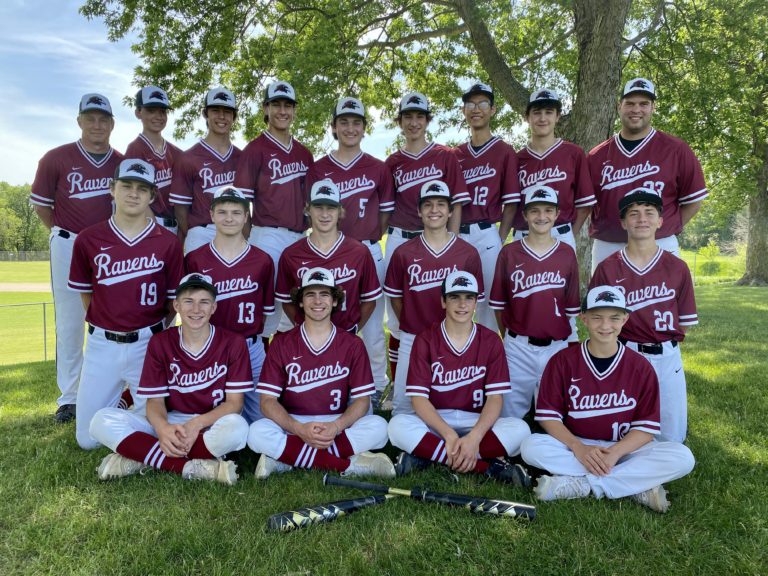 The Hillcrest Academy baseball team continues to see the trophy case fill up following the most recent season. Seven Ravens were recognized by the Southeast Iowa Superconference North Division for their work on the diamond this summer.
Three Hillcrest players were named first team selections including catcher Liam Schrock. The freshman receiver hit .250 this season with 21 runs scored, 14 hits and four RBI. His 30 walks were fifth most in Class 1A. Defensively, he threw out 15 would-be-basestealers, fourth most in 1A. His .982 fielding percentage led the team.
Junior Luke Schrock was a first-team pick as an infielder. He hit a team best .382 with team highs in hits with 34 and runs scored with 29. He ended the year with 21 RBI. Schrock led the team with 53 assists defensively and on the mound went 3-2 in 38 innings with a 3.44 ERA, registering 45 strikeouts.
Freshman Seth Ours was a first team All-Superconference pick as a utility player. Ours was .240 at the plate with a team high 22 RBI. He had 19 hits, two homers and 17 runs scored. He was also the team leader at 11 of 11 in stolen base attempts. On the mound he had a team high four wins and 40 innings thrown with a 2.24 ERA.
On second team was junior Jace Rempel has an infielder. He hit .247 and tied for the team lead with 22 driven in, to go along with 18 total hits and nine runs scored. On the mound he was 2-0 in 15 innings with a 0.89 ERA.
Grant Bender was a second team All-Conference pick in the outfield. The junior hit .205 with 15 total hits, nine runs scored and eight driven in.
Josiah Beachy and Noah Miller were honorable mention selections. Beachy, a junior, hit .200 with 15 total hits, nine runs scored and eight driven in. On the mound he was 1-3 in 21 innings with a 5.82 ERA and 20 strikeouts. Miller, a senior, in limited action after returning from a knee injury suffered during basketball, finished hitting .214 with six hits and five RBI. Hillcrest ended the season with a 12-11 overall record.