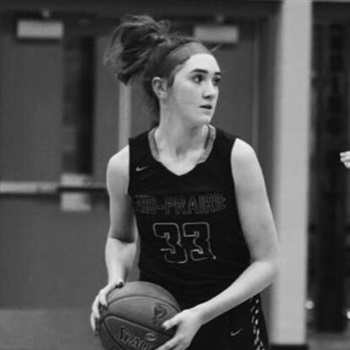 The Mid-Prairie girls basketball team opens the year Tuesday when they host the Durant Wildcats at Tim Grady Gymnasium in Wellman. The leadup to the opener has been a busy one for the Hawks as they participated in a pair of scrimmages last week, beating Albia 40-10 in one half of basketball at the Pekin jamboree a week ago and topping Mount Pleasant on the road Friday in overtime in a full 32 minute contest 65-58. In their tune-up games, Mid-Prairie has been led by Amara Jones averaging 16 points, Maddie Nonnenmann scored 14 each against the Lady Dees and the Panthers and Landry Pacha posted 15 against Mount Pleasant. The Golden Hawks were 10-12 overall a season ago, 9-10 in the River Valley Conference. The Hawks return their leading scorer and rebounder from last year with Nonnenmann posting 13 points and seven boards per game. She was an elite all-RVC selection last year. Jones led Mid-Prairie as a sophomore with four assists per night. Jones was an honorable mention all-RVC pick. Mid-Prairie averaged 44 points per game last year, while giving up 44 per night. They shot 38% from the floor, 24% from three point range and 56% from the foul line. They averaged 31 rebounds each game, 12 steals, 12 assists and 21 turnovers. The Hawks have to replace seniors Myah Lugar and Phelan Hostetler who were both all-south division River Valley picks. Lugar left Mid-Prairie as the all-time leader in three point field goals made and averaged eight points per game last year. Hostetler led the River Valley in field goal percentage a season ago.
Durant was 3-16 overall last season with wins against Anamosa, Camanche and North Cedar. The Wildcats scored 37 points per game while giving up 53. They shot 30% from the floor, 20% from beyond the arc and 47% from the line. They pulled in 30 rebounds, dished out seven assists, had 10 steals and committed 22 turnovers per game. They lost three seniors in Halle Collier, Nicole Brown and Abbey Rhoades. Collier led the Cats on the glass last year with six rebounds per game and Brown was the assists leader with a pair per contest. Durant returns their leading scorer Ally Happ who put up 13 points per game as a junior a season ago. This week, Mid-Prairie head coach Danny Hershberger talked about what he expects from the Wildcats. "You know with a team like Durant they are going to be tough. In the same conference we are all familiar with each other even though it's a new year. They are going to throw a lot of different looks at us that we will have to handle. We are excited to get the season started and to do it on our home floor."
Mid-Prairie has won three straight in the series and nine of the last 10, including 40-36 and 54-29 victories a season ago. You can hear all of the action live between the Golden Hawks and the Wildcats on AM 1380, FM 102.5 and KCIIradio.com tonight, beginning with the Washington HyVee Pregame Show at 7p.m. and tip off at 7:30p.m.