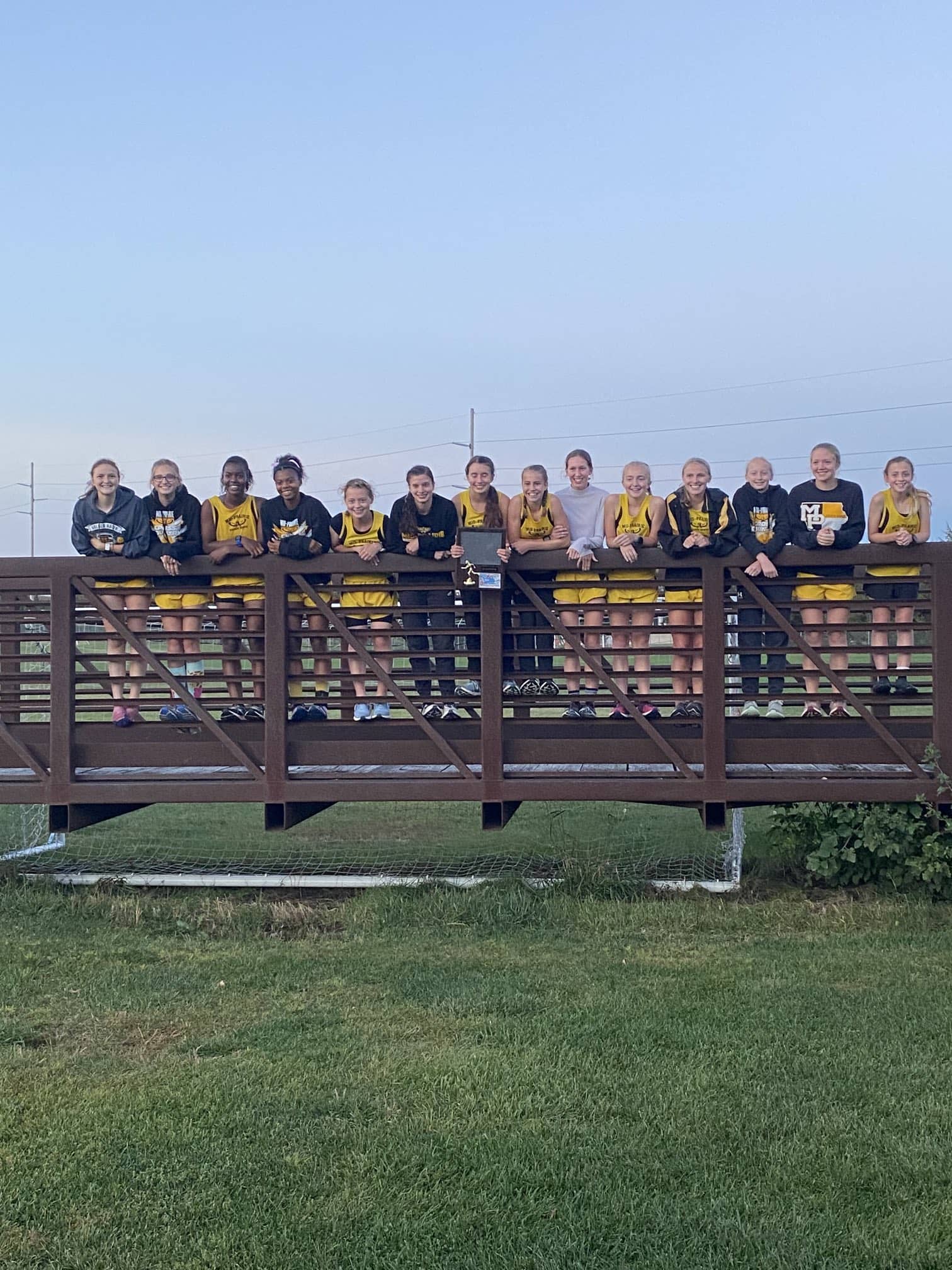 The Mid-Prairie Golden Hawk cross country program stole the show at the River Valley Conference Championship meet hosted by Anamosa at the Iowa City Kickers Complex Tuesday night.
The Golden Hawk girls won their fourth consecutive RVC team championship with a score 17 points, two away from a perfect night. Mid-Prairie was led by a 1-2-3 punch at the top of the standings with Danielle Hostetler winning the individual conference title in a time of 19:21, a full minute faster than the rest of the field. The championship for Hostetler makes it the sixth consecutive year that a member of the Hostetler family has been the individual RVC champion, dating back to 2016. Sisters Sydney and Jaden Yoder were second and third respectively. Other Golden Hawk runners included Mitzi Evans fifth, Abby Fleming sixth, Phoebe Shetler ninth, Annika Poll 19th, Amara Jones 36th, Dessa Poll 37th, Ivy Reschly 39th, Anna Flynn 44th, Greta Sieren 47th, Tabitha Evans 59th, Lilou Beachy 64th, Charlotte Sieren 65th, Grace Conway 71st, Anna Nafziger 82nd, Aliza Parks 87th, and Annette Witthoft 93rd. After their race, the top 10 RVC finishers from the Mid-Prairie girls team talked about their run.
"Sometimes when you go around a curve you can look back and see all of the bright yellow. I'm so proud of everybody. When you are going down the hill here it's fun to see all of the yellow dots It's kind of funny because people will look at you and look behind you and then see where we all are and say 'we're losing by a lot'. It's always really encouraging to see my teammates up at the front. We're proud of what we did today but we know that this isn't the end goal. We know that districts and state are where it counts, so we are celebrating today but focused on what's ahead."
The Golden Hawk boys were RVC team runners-up with their score of 83 points. Top ranked Tipton ran away with the title, scoring 27 points. Top finish for the Hawks came from Thaddeus Shetler in fifth at 17:50. Other Golden Hawk runners included Emmet Swartzentruber 16th, Chandler Hershberger 18th, Nathan Wallington 21st, Preston Yutzy 23rd, Jayse Yoder 27th, Sam Yoder 45th, Jordan Stock 57th, Blake Creed 66th, Mose Yoder 68th, Thomas Flynn 82nd, Jacob Donaldson 92nd, Andrew Stultz 93rd, Daniel Rodgers 106th, and Sawyer Hough 116th.
Mid-Prairie will take the course next week for their class 2A state qualifier meet at Williamsburg.