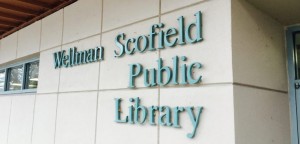 The Wellman-Scofield Public Library continues to ease back on their COVID-19 safety restrictions as they celebrate National Library Week.
Director Carol Wilkins says this week recognizes the contributions of libraries to their communities through reading materials and the variety of programs they offer, though their programming has been greatly limited during the pandemic. She says that's slowly changing and welcomes patrons back, "Our library is wide open. We are almost back to regular hours. I do have reduced hours on Saturday, but that will be changing in the next couple of weeks. The only thing I ask is that people wear a mask when they come in. Everything else we're back to normal."
Wilkins says they will begin registration in mid-May for their "Reading Colors Your World" summer reading program which starts in June.  It's open to all ages and she challenges participants to read at least 21 minutes a day in 2021.