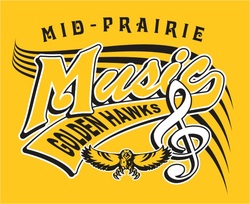 For only the third time this school year due to COVID-19 safety concerns, Mid-Prairie High School band students will perform in front of a home audience when they present their spring concert Monday night.
Band Director David Kunz says the 7 p.m. performance in the high school gymnasium will feature the jazz band, a saxophone quintet, a brass choir, and the concert band. He says his students are eager to get on stage, "I think we're very anxious to play in front of an audience and to play a concert always seems to bring back a little bit of normalcy in this year, so I think we're very much looking forward to playing live music in front of a live audience."
Kunz says their only previous live performances at Mid-Prairie this school year was their Christmas concert in December and one pep band performance at a basketball game. This week they are also submitting virtual entries for the Iowa High School Music Association's Solo-Small Ensemble Music Festival Kunz says the IHSMA has indicated the state jazz festival will be held in person in early May, but a definite date hasn't been set.