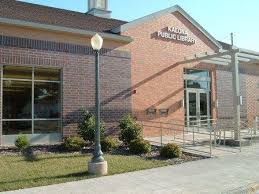 The Riverside City Council has approved a contract with the Kalona Public Library for fiscal year 2022.
Riverside City Administrator Christine Yancey says they will pay the Kalona library about $21,000 to provide Riverside residents full access to library services. She says the extent of those services is to be determined given that COVID-19 currently limits the library to curbside-only checkout of books and materials. Yancey says the partnership fills a need for a city without their own library, "They can get access to internet books, they have access to get literature or whatever they want to get from the library and get it curbside, so I think it's very important that everybody has options to keep things rolling. With COVID it gives you that closed-in, closed off feeling and this is just another opening."
Yancey says the City will be discussing services and possible events in Riverside with the Kalona Public Library in the coming months.  She says they've been encouraged  that the library has voiced interest in wanting to increase the services they provide to the city and residents of Riverside..