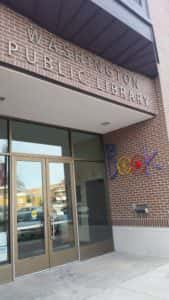 The Washington Public Library is retracting some non-essential services until further notice as a result of rising COVID-19 cases in Washington County. Contactless curbside book services will continue and appointments can be made by calling 653-2726. The library is open Monday through Thursday from 8 a.m. to 7 p.m., Friday from 8 a.m. to 5 p.m., and Saturday from 10 a.m. to 2 p.m. Masks are required in the library per the governor's recent proclamation.
The door of the library is locked and appointments for computer use, printing, copying, or faxing must be made and call the library to be let into the building. People can also use remote printing through the Printer On app.
Express browsing is not available at this time. Books that are checked out and then returned will be placed in quarantine for 72 hours before going back into circulation.
Digital resources are still available through the library's website and free wifi is available outside of the library.