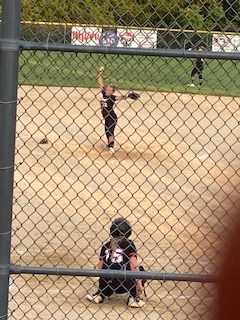 Joyce Park in Keokuk was the destination Monday night for the Washington softball team and the Demons left town with a doubleheader split.
As heard on KCII, the Demons put traffic on the base paths all of game one, but could not come up with the timely hit and fell 5-3. The road team trailed most of the contest and they had their best shot at tying the game in the seventh with the equalizer in scoring position. A two out hit by Cameron Malichky kept the Demons alive, but a tag out at home ended the threat. Washington had eight hits led by Kaitlyn Mitchell with two knocks. Cara Linnenkamp pitched all six innings and gave up five runs on four hits with her only trouble coming in the second when Keokuk plated three runs. 
Any frustration that built up for Washington was released in the nightcap, as the Demons exploded for an 18-1 domination. Eighth grader Emmy Wenger raised some eyebrows in her first career start tossing six innings in the circle giving up just one run on five hits and striking out five. She got more than enough run support, as every Demon batter either hit safely or brought in a run on the game. Mitchell continued to rake going 4-for-6 with one RBI and Malichky brought in four tallies with three hits. Washington had 16 hits altogether and extended a 4-1 advantage to 9-1 after the sixth and broke it wide open with nine more in the seventh before lightning cut it short. 
Head Coach Ben Obermann was pleased with his team's answer in game two. "We had much better approaches at the plate in game two and hit the ball harder. Every at bat is key for us right now to get better. Hopefully cranking out 16 hits allows us to relax and it carries into our doubleheader with Regina."
The Demons are now 4-9 overall and pick up their first Southeast Conference win of the season moving to 1-5 in the league. They get back at it tonight against Iowa City Regina in a doubleheader that can be heard on FM 106.1 KCII starting at 5 p.m.