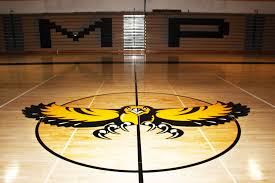 The seventh biggest athletic story from the last academic year at Mid-Prairie High School takes us to the boys basketball court. While the temperatures outside were cold, the Mid-Prairie boys were heating up in the first week of February, stringing together four straight wins, their longest such streak since the 2010 season in which the Hawks finished 17-7.  Ten years ago their wins came against Washington, Fairfield, West Liberty and Highland, during their recent stretch their victims were Wilton, Anamosa, West Branch and Durant.
The Bears were arguably the biggest victory. The Hawks went to West Branch on senior night and spoiled the No. 8 ranked Bears celebration with a 47-41 win. Aidan Rath led the Hawks on the night, scoring 18 points on his birthday. Carter Harmsen had 17 points. After the win, Mid-Prairie head coach Daren Lambert talked about the effort, and the celebration. "As you notice, I had to do a little wardrobe change. I might have a dry cleaning bill, they got me a little wet, it's a celebration in there and they deserve it. I am so proud to say I'm the head coach of Mid-Prairie boys basketball. The fan support on the road tonight was amazing, half of them are still down on the court! We were hungry for this one. Two weeks ago against West Branch, we fought so hard and to see their buzzer beater go in to beat us, you could see it in our guys eyes, they had this one circled. This makes it three in a row and even sweeter. The hunger and fight we showed I am so proud. We dug in defensively. We ended the possession with one shot on the defensive glass. Rath and Harmsen played well off of each other."
In those four games, the Golden Hawks outscored their opponents by 12 points per contest, averaging 60 points in each. Mid-Prairie shot 50% from the floor and 35% from beyond the arch during those games while holding opponents to just 34% from the floor. Mid-Prairie was led individually during that stretch by sophomore Carter Harmsen at 15 points per game, including 25 against Durant. Junior Aidan Rath posted six rebounds per game including 12 in the victory over Anamosa. Senior Brad Tornow had the team lead with five assists per game, dishing out six helpers each in wins over Wilton and Durant. The Golden Hawks ended the season with an overall record of 8-14.