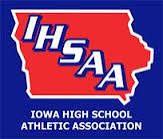 Drake's blue oval has many KCII-area track athletes competing on it this week for the Iowa High School State Track and Field Meet. The track meet runs Thursday through Saturday. Washington's boys team has Mitchell Driscoll, Justin Simmering, Cade Hennigan, Lincoln Kleese, Ethan Hunt, the 4×100, 4×400, shuttle hurdle and sprint medley teams. The Demon girls have Jenah Greiner, Isabel Bailey, the 4×100 and 4×200 in Des Moines.
The Mid-Prairie boys are represented by Jack Baker, along with the sprint medley, 4×100, 4×200 and 4×800 teams. The Golden Hawk girls have Marie Hostetler, Mitzi Evans, Angelina Evans, Tori Boyse, the 4×100, 4×200, sprint medley and distance medley teams.
Other area athletes at state include: Iowa Mennonite School's Suzanna Yoder and Leah Bontrager; Highland's Trey Lasek, Madison Thomann, Emily Yahnke, Aly Stokes and the girls 4×100 and 4×200 teams; from Lone Tree the boys distance medley, Holley Johnson and the girls distance medley; WACO's Colton Horak and the boys shuttle hurdle; Winfield-Mt. Union has Brandon Snowden, Juanito Piper, Talon Newton, Anna Hudson and the boys 4×100 and 4×200 teams; Keota is represented by Justin Moeller and the boys distance medley team; and Sigourney has Spencer Magill, Payton Schauf, Sloane Magill, Summer Barthelman, Megan Stuhr and the girls shuttle hurdle relay.
Listen to KCII for results from the state track meet and for more information check out the sports section at KCIIRadio.com.