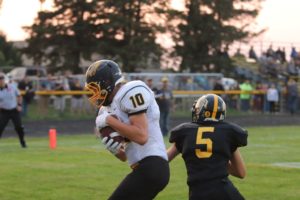 The first thing you notice about Mid-Prairie senior Tom Butters is that he looks like an athlete, and you would be right.
Butters, a 6'4″, 200lb wide receiver and corner for the Hawks has become a home run threat on the offensive and defensive sides of the ball, finishing with 10 catches for 256 yards and a team best three touchdowns in 2018. His 25.6 yards per catch was sixth best in Iowa in class 2A for receivers with at least 10 catches last season. Butters ended his defensive career with three interceptions and a total of 54.5 tackles.
In his senior season, Butters added punting to his skill set. He led the district and was 10th in class 2A for those with at least 20 kicks on the year, averaging 37 yards per punt.