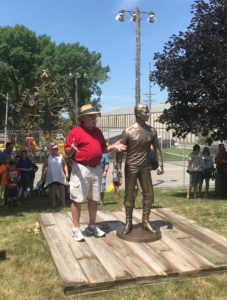 Former Riverside City Council member Steve Miller stands beside Captain Kirk statue. Photos by Sam McIntosh.
"A very enterprising idea" were the words from Star Trek creator Gene Roddenberry when former Riverside City Council member Steve Miller requested to name Riverside as the future birthplace of Captain James T. Kirk, captain of the fictional USS Enterprise.
Thirty-four years later Miller helped unveil the lifesize bronze statue of Kirk at this year's Trekfest. At the unveiling Miller shared about his journey making Riverside the future birthplace of Kirk and getting a statue made, "The statue, like I said, has been a goal for years. I had two goals, get a statue of William Shatner's Captain Kirk and to keep Paramount Studios from suing me, and so far we've succeeded in both of those!"
Trekfest attendees from near and far took photos with the bronze Kirk, including Jackie Bussjaeger from White Bear Lake, Minnesota, "It's really fun to see it come to fruition after we heard a couple years back that they were trying to get this done and we saw the concept drawing. And now here we are, two years later it's actually out here standing in the park which is pretty cool."
The statue was made possible by donations from the City of Riverside, Riverside Area Community Club, Riverside Museum Board, and community members and Trekkies alike.