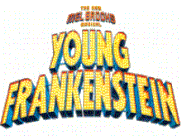 A family of scientists from Transylvania who work to recreate life will be featured in a musical in Washington this weekend.
Young Frankenstein will be on the Washington Community Center stage. The show is presented by the Washington Community Theater with a cast that includes people from across the area from Keota to Washington to Iowa City.
Co-director Chris Hanson shares the plot, "Frederick Frankenstein is the grandson of Victor Frankenstein, who is the original Frankenstein in the book. Frederick is a college professor who gets a telegram, basically from Transylvania telling him that he's inheriting his grandfather's estate and he needs to go back to Transylvania to take care of business. He's not wanting to come to grips with being a Frankenstein, being a brilliant brain surgeon that he is, he isn't into the belief that life can be recreated or brought back to life. It's just a hilarious comedy that plays on this whole story about his transformation into joining the family business of bringing dead people back to life."
Hanson and co-director Jennifer Wagner rate the show PG-13 for parents' discretion. The show is on the Washington Community Center stage at 7:30 p.m. this Friday and Saturday, as well as June 29th and 30th, matinees are at 2:30 p.m. June 24th and July 1st.