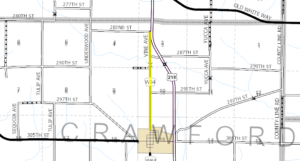 Crews are again working on Coppock Road and Vine Avenue in Washington County.
Cedar Falls Construction is resuming the patching and grinding project on Coppock Road to increase the life of the pavement and improve the ride. The Washington County Engineer's Office states work will be done on two miles of road at a time, starting with the Wayland Road and working south to the Coppock city limits. During the work, traffic will be restricted to one lane at a time and work is expected to take about two weeks.
Also, two miles of Vine Avenue, or old Highway 218, north of Crawfordsville is undergoing repairs to the deteriorated surface. During the work by LL Pelling Company traffic is restricted to one lane at a time and pilot cars are being used. Work is expected to be done by the end of the month, weather permitting.
Drivers are encouraged to use caution in the construction zones and pay attention to roadway signage for directions.