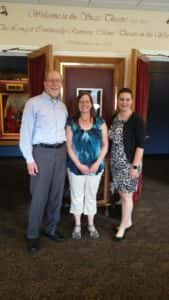 Downtown Washington had a visitor from Washington, D.C. Friday.
Representative Dave Loebsack (D) joined Main Street Washington Executive Director Sarah Grunewaldt on a walking tour. While touring the State Theatre, the world's longest continuously operating movie theater, he said visiting downtown areas he represents and the people who work there is important so he can have a sense of the communities, "This is not only wonderful from an historical perspective to be able to see this, but what it's doing for the community, too. It really helps the economy here, I think, when you have something like this, because people are coming here, and they're spending money here, and they're staying downtown in the area here. But also, the importance of the Federal Historic Tax Credits that's what they were able to take advantage of. The program has been modified but it's still there. And, you know, there's bi-partisan support for those historic tax credits and we have to make sure to keep those in place so that communities like Washington can stay not only alive, but to thrive as well, it's really, really important."
Loebsack also visited with Washington County Public Health Administrator Danielle Pettit-Majewski.