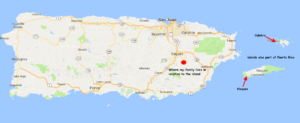 Map image courtesy of Gabe Wylder.
Spare change is usually placed in a coin purse or a jar, sometimes forgotten.
But when Hurricane Maria struck Puerto Rico, the faculty of Winfield-Mt. Union Elementary School wrote a letter to students' parents, encouraging them to bring their change to help the relief effort. The faculty saw how the hurricane's devastation personally affected Elementary Principal Gabe Wylder, who has family in San Lorenzo, Puerto Rico. Wylder says there is still no electricity in San Lorenzo, unless one has a generator, "They've been having to purchase diesel fuel for generators. I believe one of my mom's cousins has been estimating that they've spent over $1,000 in just buying diesel fuel to generators so that they can have a little bit of cool environment to sleep in, to be able to run their refrigerator." Wylder's mother lost half of the roof to her house and can't be accessed due to a mudslide and fallen tree in the path to her home.
The month of October Winfield-Mt. Union students took part in "Change for Change," and local businesses have also held collection buckets. Some teachers engaged students in writing letters to Wylder, "Through the entire kind of drive I've had a number of students come up and give me hugs or ask me how my family is. So it's definitely been something that I feel has been really connecting in a really positive social context, for just caring about the community or our global community that we have."
The fundraiser has so far collected over $2,500, which faculty wish to donate to schools near San Lorenzo. Wylder plans to soon hold an assembly to celebrate the district's compassion.