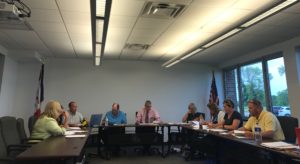 The Highland school board met July 10. Photo by Sam McIntosh.
A Facebook message between faculty and a parent is considered a liability to the Highland school board.
This and several other staff technology issues were discussed at the board's meeting July 10. Superintendent Dr. Mike Jorgensen stressed that staff using personal technology at work is a liability for the district, "If I have to contact the parent I would use the school phone or the school email. With you guys early on I interacted with my own personal email but then I asked everybody to make sure to change over."
The board gave a first reading on their staff technology use code 401.13. The code states that employees shouldn't contact students through social media without the consent of the superintendent. Employees who wish to start a social media site for school activities should also contact the superintendent. Elementary Principal Jane O'Leary described how curbing social media use will affect parents, "I think they do whatever works for the parent. There are some people who never check email or their voicemail, and the only way that we contact them is through Facebook messenger. But I don't have a problem changing, I just think it's going to be a big adjustment."
The code also states that employees who are coaches or sponsors of activities may create a text list of students and parents, as long as the texts go to all the students and the principal is included in the group text.