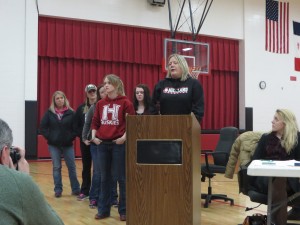 Ainsworth Elementary teachers stood together to voice their opinion at the Highland School Board meeting; photo by Joe Cerwinske
After months of speculation and nearly two hours of discussion at the recent meeting, the Highland School Board has made their decision, and Ainsworth Elementary will be closing its doors at the end of this school year. After initial discussion among the board, in which many members were visibly distraught, a motion was made by board member Laura Temple to close the school and have all current Ainsworth Elementary students attend Riverside Elementary. However, after some interjections from the crowd, a vote failed 3-4 to approve the closure of the building. The board then opened discussion among the many concerned citizens in attendance. It was after a group of teachers from Ainsworth Elementary stood up together and spoke about why the schools needed to be consolidated that the board was motivated to hold a second vote. Temple once again entered a motion to close the school, and after a roll call vote, it passed 6-1. Lois Schneider was the only dissenting vote on the second motion.
Parents with students who currently attend Ainsworth Elementary, or who had been planning to attend during the next school year, will have the option of having their children transported to Riverside Elementary. The board was unsure of what would next happen to the building, but Superintendent Chris Armstrong suggested one possible route was to offer it up for auction. A more concrete decision on the fate of the building will be made in the coming months. As for the teachers and staff at Ainsworth, the board indicated the majority would be retained and would still have a job in the district.