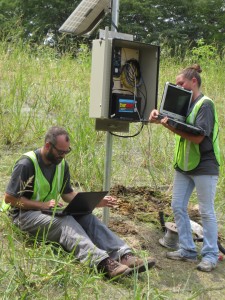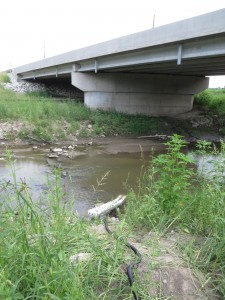 A sensor was placed in the creek (bottom photo) and data will be sent to the box (top photo) that was installed Wednesday south of Washington, from the box data will be sent to the website for real-time water quality data. Photos by Sally Y. Hart
A new water-quality sensor was installed at the West Fork Crooked Creek south of Washington Wednesday to monitor nitrate and nitrite levels. Dr. Chris Jones with the University of Iowa hydroscience and engineering department explained the set up which includes gauge in the stream that is then connected to a box mounted on a post along Highway that holds a modem that sends water readings from the stream every five minutes to the website. There is a solar panel attached to the box for power. There are over 50 sites in the state and all of their readings can be found on the website.
The monitor began transmitting readings Wednesday afternoon and it covers the watershed area from south of Washington to northwest of Keota. These monitors can help assess the effectiveness of Iowa's Nutrient Reduction Strategy. For photos of the monitor visit KCII Radio's Facebook page.