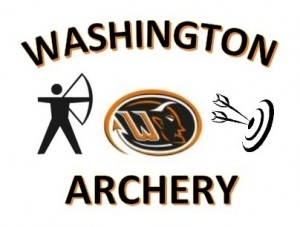 In their fourth year of existence, the Washington Demon archery team has reached the pinnacle event of the sport. The National Archery in the Schools Program's Worlds International Bowhunting Organization's 3D Challenge will be held in Myrtle Beach, South Carolina tomorrow through Sunday and the Demons will represent southeast Iowa at the shoot.
A Washington eighth grader is competing in the 3D shoot as an individual. Samantha Mellinger tallied the Demons' best score during last month's National Shoot in Louisville, KY, scoring a 280 out of a possible 300 points. Her performance ranked her 25th overall out of 668 middle school girls in the country. Washington split into two squads for the National 3D shoot with the highest team score being used for qualifying for Worlds. Washington's top group placed 63rd overall with a score of 1334 points, while the other team posted 1329 points and finished 67th.
Other Washington archers competing in the World's 3D competition include: senior Jade Wells, senior Joseph Dalziel, sophomore Kylie Porter, sophomore Grace Shafer, freshman Hannah Frame, freshman Griffin Wood, seventh grader Samantha Frana, and sixth grader Lane Frana .
The Demons archers are set to shoot at 10 a.m. tomorrow at Socastee High School in Myrtle Beach, South Carolina.