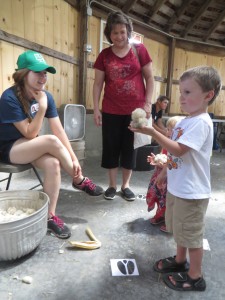 A 4-H member volunteers time and shows visitors wool at the Little Hands on the Farm event at the 2015 Washington County Fair. Photo by Sally Y. Hart
Washington County 4-H and Clover Kids currently has 520 youth in kindergarten through 12th grade involved locally. Amy Green, 4-H and youth coordinator for Washington County, says it would not thrive the way it has without the commitment of volunteers. This week is National Volunteer Week.
KCII News spoke with Jodi Ebert, a third-generation 4-H volunteer in Washington County, and a member of the Youth Committee and superintendent of photography says she enjoys volunteering her time as a club leader with her mother. She says it's been a family affair as she went through 4-H with her cousins and her grandma was a volunteer for decades.
There are 59 4-H Club leaders and Clover Kid leaders, 26 livestock superintendents, 24 fair board members and hundreds of episodic volunteers and donors who volunteer once or twice each year in Washington County. For more information about Washington County 4-H listen to Monday's Washington Page with Ebert.