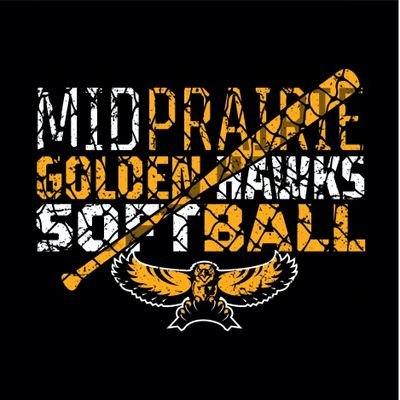 The Mid-Prairie Golden Hawk softball team gets 2023 started tonight when they make the trip south to Keokuk to take on the Chiefs. The Hawks were 16-13 last season, 9-5 in the River Valley Conference before falling Chariton in the first round of the Class 3A regional tournament. Mid-Prairie hit .347 as a team last year with a .389 slug percentage and .438 OBP scoring 140 runs. Leading returner is Madeline Schrader with her .451 average and 34 runs scored, both team bests. Dakota Mitchell had 39 hits and Sydney Knebel 25 RBI to lead Mid-Prairie. The Hawks had seven players hit over .300 last year. In the circle, Mid-Prairie had a team ERA of 4.02, 1.54 WHIP and .313 opponent batting average against. Knebel started 17 games last year, working 122 innings, giving up 153 hits, 75 runs, walking 21 and striking out 85 for a 3.44 ERA.
Keokuk was 7-25 overall last year, 4-16 in the Southeast Conference. The Chiefs hit .247 as a team, slugged .341 and had a .317 OBP scoring 102 runs. Keokuk returns their top seven hitters led by Ada Wood with her .379 average and 38 hits. RBI lead Rachel Moore with 16 last season also returns. The Chiefs had three players hit over .300. In the circle, Keokuk compiled a 6.10 Team ERA with a 2.20 WHIP and .336 opponent batting average against. Wood was best for the Chiefs last year with an 8-11 record in 123 innings, .274 batting average against with 140 hits, 69 earned runs, 69 walks and 166 strikeouts. This week, Golden Hawk head coach Amy Hartsock-Williams talked with KCII Sports about what has her most excited for the coming year. "To continue to improve our fundamentals and mechanics. To become a very good, communicative team. That can make up for a lot. Be better hitters, make solid contact with quality at bats. Be good teammates to each other, that will carry a long way too. After challenging practices every day this spring, they always look at me like 'now what?', 'now what can we learn?' They have that want to get better. I'm also excited about hearing the community talk about Mid-Prairie softball. Last year, I saw faces I hadn't seen for a long time at the ballpark. We want to work hard for this community."
These two teams met last season with Keokuk taking a 9-2 win. Action starts tonight at 7p.m. at Joyce Park in Keokuk.