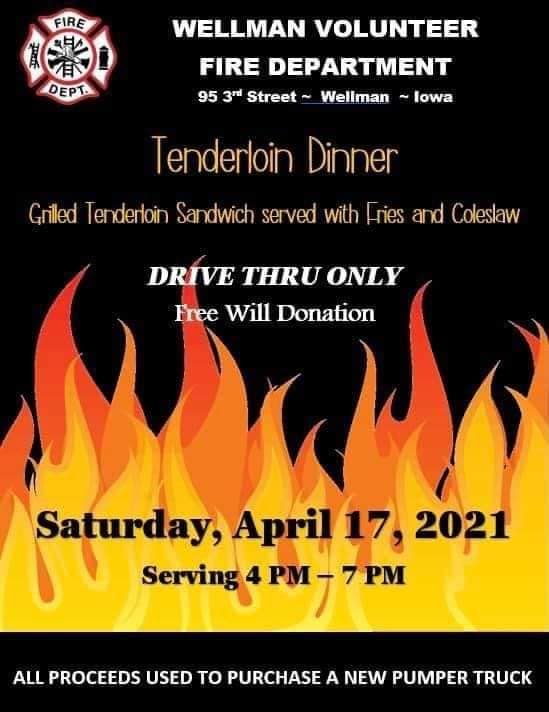 The Wellman Volunteer Fire Department is conducting it's first-ever drive through fundraising event tomorrow in their efforts to purchase a new pumper truck.
Secretary/Treasurer Tracy Owens says they're not sure what type of turnout to expect, but they're prepared to serve up to 1,500 people between 4-7 p.m. at the fire station with a meal that includes a grilled tenderloin sandwich, fries and coleslaw. He advises to come hungry because they will pile on the food for a free will donation, with proceeds going towards replacing their current pumper which has served its time, "We are 30 years in on our pumper at the station and those are easily a $350,000-$750,000, which is a major expenditure, nothing to look at lightly, but it's time that we have to pursue that and we have been putting away funds for that for quite a few years, but this is just another angle to raise funds towards that purchase."
Owens says they could be a year away from replacing their pumper and this weekend's event is an effort to recoup funds lost from their cancelled pancake breakfast last October. The breakfast has raised about $10,000 annually for the fire department, but he says the Wellman community has helped cushion the blow by stepping up with generous donations from the business and private sector. He also gives a big thanks to Brenneman Pork for donating all the tenderloins for the drive through dinner.