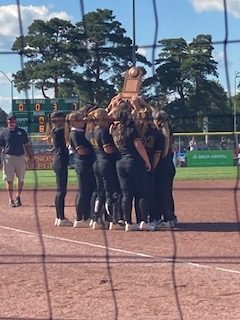 The 2020 summer ended on a strong note for the Louisa-Muscatine softball team, as the Falcons flew by Northeast Goose Lake 8-0 in a third place state consolation game in Fort Dodge on Friday.
As heard on KCII, the Falcon offense put the pressure on early and often scoring in five of six innings including a RBI knock from Brynn Jeambey in the first to get the party started. Kylee Sanders brought in a run in the second to make it 3-0 and they started to create separation in the third after a RBI groundout from senior Beth Butler and a sacrifice bunt for Mae Cox that plated one more. Late insurance was more than enough for Hailey Sanders in her final game in the circle, as the senior threw a complete game giving up just two hits, no walks, and striking out 14 Rebel batters. Seven Falcons created seven hits led by two RBI outings from Jeambey and Butler.
Head Coach Bryan Butler tells KCII Sports his team could not have responded any better after their semifinal loss to Ogden. "We regrouped after losing on Wednesday and knew that third place would still be outstanding. They came in really loose today and played really well. Hailey took control in the circle in her final game and to have her in this program for so long has really helped elevate us to the level we are at."
Louisa-Muscatine closes the year 20-6 and finish third in class 2A. Hailey Sanders and Hohenadel were named to the all-tournament team with Sanders finishing the three games with 39 strikeouts and Hohenadel recording five hits.