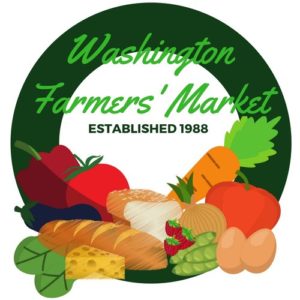 A new date has tentatively been set for the opening of the 2020 Washington Farmers' Market with added public health measures due to COVID-19. On June 4th the first market will be held and customers will have the option to shop in person or they can order ahead online and pick up their items all at once curbside.
Main Street Washington Director Sarah Grunewaldt says the Washington Farmers' Market Advisory Committee is keeping safety a top priority for customers and vendors alike, "They won't be able to put your produce into a reusable shopping tote. If you want to carry one so you can consolidate, fine. But they will be putting all of the produce or products in plastic bags, and setting it down for you on a table and then you'll have to grab it yourself. We're also asking our customers to not touch the products. You can point and tell them verbally what you're looking for, but if you touch it you have to buy it. It's just trying to keep contact between the vendors and the customers as limited and as safe as possible." There will be signs directing traffic in a one-way route and people are asked to have one shopper per household, nobody under the age of 16, no pets except service animals, and there will not be any open seating available.
In addition to produce and bakery items, ready to eat meals will be available for people to take home. Grunewaldt adds this is the tentative plan, and things are subject to change in order to follow the governor's guidelines.