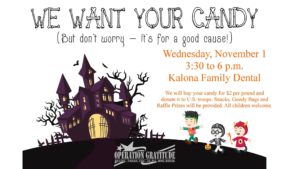 While parents may feel overwhelmed by the amount of candy their kids collect at Halloween festivities, there is an opportunity to give back to others and possibly prevent future cavities.
Kalona and Riverside Family Dental are hosting their third annual candy buy-back event Wednesday at Kalona Family Dental. Families are invited to bring portions of their Halloween candy from 3:30-6 p.m., and Kalona Family Dental will purchase it for $2 per pound. The candy will be sent to Operation Gratitude, an organization that sends care packages to deployed U.S. military service members. Pam Darrow from Kalona Family Dental tells why dentists Dr. Tammy Grimm and Dr. Erika Hahn host this event, "They're both female dentists and they absolutely love children. They see a lot of decay and cavities, and it's just another way of promoting good dental health. And also at the same time helping those who serve [in the military]."
All children are encouraged to wear costumes, and there will be raffle prizes, prizes for best costume, snacks and goody bags.