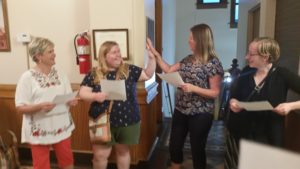 The Hotel Motel Tax was approved in the City of Washington.
Results from the auditor's office show that 380 people voted in favor of the measure and 127 voted against it. The measure passed with 75% of the ballots cast supporting the measure. This was the third time the measure was put on a ballot for residents of the city to weigh in on. Members of the committee promoting the referendum Millie Youngquist and Debbie Stanton, along with Washington Chamber of Commerce director Michelle Redlinger were pleased with the results, Redlinger said, "There were a lot of people working on this effort and [I want] to thank the community. I think the biggest thing is that the revenue stream is no longer just leaving Washington, but now it's a two-way street. Now when we visit a community we help their tourism, and when somebody visits our community they're helping to fund our promotion and tourism efforts. I think that just is a better balance."
The seven percent tax on rooms rented at hotels, motels, and inns in the City of Washington will go into effect January 1st, 2018. Funds collected will then be used to promote tourism and improve local facilities. Approximately 10.5% of the registered voters in Washington took part in the election.