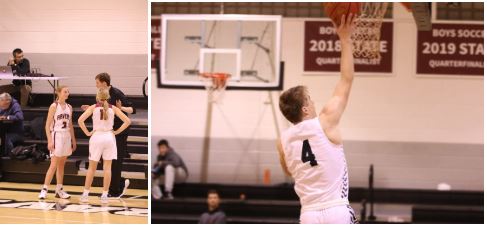 Photos Courtesy of Hillcrest Academy Yearbook
Both ends of a Southeast Iowa Superconference basketball doubleheader in Packwood Tuesday went to the Pekin Panthers as they swept Hillcrest Academy. In girls action, it was Pekin with a 56-21 win. The Ravens led 5-3 in the opening minutes, but the Panthers took the lead with a 9-0 run that closed the first frame and never looked back. Pekin led 19-10 at half and 39-19 after three. The Panthers outrebounded the Ravens by 10. Hillcrest got 10 points from Claire Withrow to lead the offensive attack. With the loss, Hillcrest is now 0-17 overall, 0-10 in Superconference play. Pekin improves to 3-14.
In the boys contest, the Ravens dropped their second heartbreaker in a week, falling 52-49 on the Panthers senior night. The latest chapter between the two longtime foes followed a familiar, tightly contested script. The Ravens held a 14-13 lead after the first eight minutes and the Panthers tied the game at 25 at half. Pekin edged in front after three quarters 35-33. The Ravens made a move early in the final period, building a six-point cushion, on the strength of two Luke Schrock triples and six straight makes at the line for Grant Bender. Ben Ehret answered for Pekin with two long balls of his own, then a Will Adam three gave Pekin the lead. A late Hillcrest possession ended with a turnover. The Ravens were led by seniors Bender and Schrock with 21 and 15 points respectively. The loss drops Hillcrest to 9-8 overall, 9-4 in the league ahead of a trip to Wayland for a doubleheader with WACO Friday. Pekin is also 9-8 on the year.