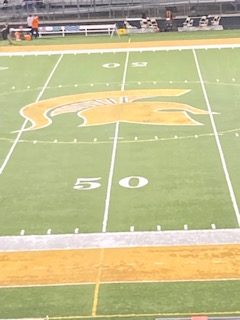 It was a rough start and things never got better last night for the Washington football team when No. 9 Solon rolled on their homecoming to the tune of 44-0 in a class 3A district 5 clash. 
As heard on KCII, Solon just needed two screen plays to take the opening drive 68 yards to pay dirt with both connections being from Blake Timmons to Sean Stahle. Two minutes later, Washington coughed the ball up at their own two with the Spartans recovering in the end zone. That was the first of four turnovers for the Demons with Solon (4-2, 2-0) scoring 21 points off of those miscues. The deficit ballooned to 28-0 by the end of the first and 37-0 at half before tacking on another in the fourth. The visitors finished with just 116 yards of total offense and 62 of those came on an Ethan Patterson to Jude Brown reception late in the half. Washington had their one chance to get on the board in that drive, but squandered a perfectly set up fourth down play. The Demons recorded 1.7 yards per rush with Casen Evans finishing with 28 yards. Patterson completed three passes for 68. Solon collected 340 total yards including Timmons' 134 through the air and three touchdowns. The Demons' were led defensively by Evans with 5.5 tackles and DaShaun Westphal-Edwards had three for a loss. 
Washington falls to 2-4, 0-2 in district play, and they are back on the road Friday at Keokuk.